HubSpot or Marketo: Which one to pick? Explore 12 comparisons
HubSpot and Marketo are two very popular CRM platforms whose core objective is to automate marketing tasks, empower customer engagement activities and make data central to building better customer relationships.
With HubSpot, you can connect all aspects of your business that help build and nurture outcomes-focused customer experiences from a single pane of glass. It offers a variety of hubs, including marketing, sales, service, operations, and content, that can be leveraged to deliver a unified customer experience across the length and breadth of the customer journey. This platform fosters better alignment between different business functions by ensuring they have access to the same data to make decisions that complement each other.
Marketo is a Software-as-a-Service marketing automation software that aims to improve the deliverables from strategic marketing activities and purpose-built to help marketing teams automate strategic tasks and monitor, measure, and analyse campaign engagement and workflows. With the latest, accurate, and relevant data, B2B and B2C marketers can work with more qualified leads, close deals faster, and keep churning out personalised marketing campaigns that deliver ROI across diverse digital channels.
Datanyze says HubSpot's market share is 37.21%, while Marketo's is 3.1%. While the market share gives an idea about the popularity of a CRM, it is essential to know that choosing the right marketing platform begins with understanding their differences. Popularity alone won't help you make the right choice
A HubSpot vs. Marketo Comparison will give you more clarity on the suitable platform for your business needs.
HubSpot vs. Marketo Comparison
We have compared HubSpot and Marketo based on a curated list of parameters that we feel will give customers a better idea of the marketing platform that can work best for them:
A. Cost
Marketo Engage has five pricing options: Growth, Select, Prime, and Ultimate. The categorisation has been done on various parameters such as users, daily API calls, customised data objects and records, and content assets - the price increases as the number of users, API calls, etc., increases.
Regarding HubSpot, you can select a single hub or two or more hubs as you see fit and accordingly incur expenses. If you go for the entire suite of HubSpot hubs, the professional edition is currently available for $1600/month, and the enterprise edition is available for $5000/month. The pricing differs based on the number of properties, workflows, and other parameters.
B. Conversion Funnel
Marketo Engage strengthens and increases the output of your conversion funnel by delivering capabilities such as content personalisation, marketing impact analytics, lead management, support for diverse campaign channels, sales alignment, and automation. Together these capabilities help marketers personalize campaigns and benefit from lead prioritisation and unified messaging.
While HubSpot offers all the capabilities mentioned above and more, the conversion funnel is further optimised by breaking silos between sales, marketing, service, operations, and content. Different teams focusing on building and nurturing profitable customer relationships can come together on the same platform; they can maximise the potential of the same data available to all of them to personalise campaigns at different touchpoints right from the time very little clarity is available on the prospect to the time when the sales team are pitching product upsells and cross-sells and everything in between.
C. Customer Relationship Management
HubSpot markets itself as a comprehensive CRM suite, while Marketo Engage promotes itself as a comprehensive marketing automation platform, and for a good reason. HubSpot helps you stay on top of every activity and builds better customer relationships. On the other hand, Marketo focuses on marketing automation, account-based marketing, lead management, email marketing, and multi-touch attribution.
D. Tools and Features
Some of the features offered by Marketo include: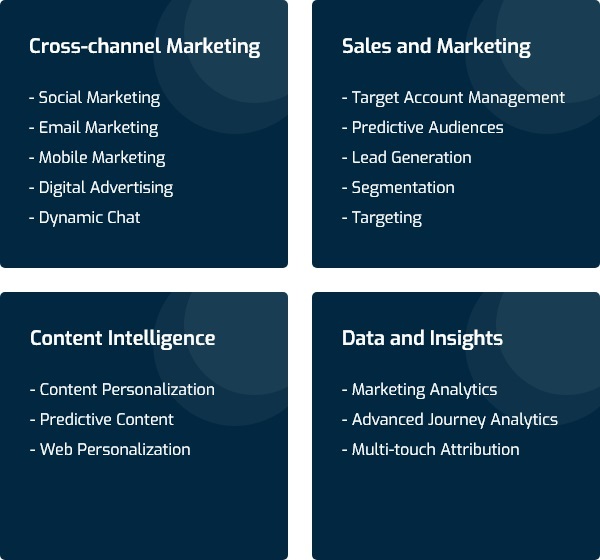 Some of the features offered by HubSpot Include: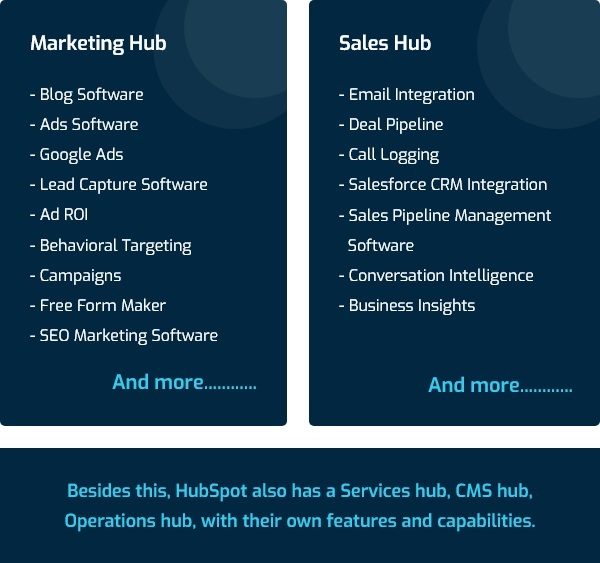 E. Implementation
Both software are extremely professionally managed and take customers through an end-to-end process for setting up these platforms. The Marketo and HubSpot implementation timelines are typically the same, but HubSpot might pip Marketo to the post on some occasions, depending on the scope and scale of the implementation.
Onboarding is a critical component of both Marketo HubSpot implementations for B2B business. While conducting a B2B marketing platform evaluation, getting more clarity on the nature and scope of the onboarding process is necessary. You can either work directly with HubSpot and Marketo for the onboarding process or with a HubSpot or Marketo onboarding partner to take you through the ins and outs of the CRM platform.
F. Usability
Usability of a particular platform is dependent on multiple factors, including its inherent focus on ensuring ease of use, the confidence of the users, and the hands-on experience and expertise of users on a specific platform. Even the most complex tools are easy for people who don't allow their complexities to get in the way of maximising their potential.
When you talk to the salespeople pitching HubSpot or Marketo, they will make it sound like all you need to do is get limited training, and you are ready to rock the tool. It doesn't work that way. Some people will say that HubSpot is far easier to use than Marketo and vice versa. When you choose a tool based on its usability, you need to look at the skillsets and mindset of the teams that will use this tool and understand if they align with how a particular tool needs to be used to accomplish team goals. If you think the team will find the device difficult to use, rethink your choice. Otherwise, go for it.
G. Email Marketing
According to a SuperOffice survey, B2B businesses send one email marketing campaign every 25 days. You might be sending more or less, and the fact remains that email marketing remains one of the popular marketing strategies employed by businesses. You will need to get it right, and one of the reasons for implementing a CRM solution is to optimize the potential of your marketing campaigns.
Both Marketo and HubSpot come good on this score and make it easy. With HubSpot, you can build visually appealing emails in a hurry, choosing from the various templates on offer, and use a simple drag-and-drop process to customise the template and add text and CTA as you deem fit. The emails can be added to your campaign workflows, and HubSpot maps the email to the email subscriber lifecycle stage to ensure that you use the most impactful subject lines and CTAs. You can also monitor email performance and improve it through focused A/B testing.
Marketo also aims to make email marketing more outcomes-focused for marketers by creating emails that resonate with potential and existing customers. Marketo lets you put customers into various segments in real-time based on their journey through the funnel across channels and personalise your emails based on each customer segment. This will help you maximise engagement and boost email performance.
H. Contact Management
HubSpot vs. Marketo is an excellent discussion to have amongst your marketing team, but what is even more important is to have this discussion from the prism of your contacts and the platforms' ability to work with only the most accurate, updated, and relevant data at all times.
Your prospects and customers are the most valuable marketing currency. How you use this currency will define your success and failure rates. With HubSpot, you can work with 1,000,000 contacts and company records and leverage these in marketing activities such as email, ads, calling, and more. This platform can update contact records automatically, centralize contact details, and deliver deeper insights into the contacts and their buying behavior.
In Marketo, the account profiling feature will help you identify new target accounts, maintain account hygiene through validation, and do much more through other contact-centric features. If push comes to a shove, we can say that the contact management features of HubSpot are a shade better than Marketo. Then again, you must be able to evaluate the contact management features of both platforms comprehensively, to make the right choice.
I. Content Personalisation
Both Marketo and HubSpot offer elaborate functionalities to personalise your content. Dynamic content powered by HubSpot personalisation tokens can help you create custom content targeting a particular contact or company. Moreover, the customer behavioral insights delivered by this CRM and the granular visibility into the customer journey can help you deliver personalised messaging at different stages of the customer interaction process.
Marketo delivers content personalisation by helping you test different content across diverse channels to zero in on the content you know best for your prospects and customers. With performance data received in real-time, your content is automatically optimised to deliver even more value to customers, thus improving the chances for conversions.
J. Integrations
B2B marketing platform evaluation cannot be complete without looking at its integrations. Your business will already be using certain software for specific business processes. The CRM you choose must seamlessly fit with your existing tech stack. Marketo can be connected to many apps such as Salesforce, SAP, Microsoft, Google, GoToWebinar, and others. HubSpot integrations also include all the popularly used apps, including Salesforce and others. Regarding app integrations, there is very little to choose from both CRMs. In this case, the differentiating factor could be a specific app integration offered by one and not the other.
K. Analytics and Reporting
Data analysis and visualising this data through easy-to-understand reports is the bedrock of any CRM. It is THE reason why your teams want to implement a CRM. Both Marketo and HubSpot score well on this front, delivering key business insights into the performance of your campaigns and their impact on the buyer journey. A deeper analysis of your campaigns helps you build better and more customer-focused strategies that deliver more value to your customer relationship-building efforts.
L. Support and Platform Maintenance
Support options for Marketo and HubSpot will be based on your chosen plan. The more expensive your plan, the more comprehensive the support. However, it must be said that even with the most basic CRM plan, you get the help you need speedily. More importantly, you don't have to worry about platform maintenance, as it is something that the vendor manages. Being cloud-based platforms, updates, modifications, and improvements can be rolled out without inconveniencing customers.
HubSpot Vs. Marketo Comparison – Which CRM Should You Choose?
The simple answer to this question – pick a CRM that makes the most sense for your business from the functionality and cost perspective. While the features delivered by both CRMs will look the same at first glance, there will be some subtle and, at times, significant differences between some of them. You will need to make the most of consulting services for the B2B platform to zero in on the right platform. It is also important to note that you will be using the chosen platform for a long time, and therefore your team should be comfortable with its use.
To Conclude
The best CRM for B2B businesses can deliver tangible ROI, help your customer relationship engagement and nurturing activities break through the clutter, and offer long-term value. Choosing the right CRM can be difficult but made simpler if you focus on the right parameters. This article has given you a ringside view into them to give you a starting point for your discussions with the CRM vendor. All the best!
Contact us to know what's best suited for you