1.HubSpot Onboarding & Sales and Marketing alignment
Action
TransFunnel imported the existing client data from Salesforce into HubSpot, verified it, then customized the lead status properties.
TransFunnel built workflows to allow ClearTax's marketing teams to pass on leads to MQL and SQL based on specific actions. These leads were then deployed to the apt team for interaction and engagement.
Impact
The handover process from marketing to sales became smoother, both the marketing and sales teams were in sync as communication grew stronger between them.
Action
HubSpot's ads integration tool was used to focus better on optimizing the ads to earn promising leads.
Impact
This helped ClearTax gauge which ad channel gets the most footfall based on which the user journey is customized to be able to produce high performing ads.
2.Custom reports and management dashboards
Action
TransFunnel helped ClearTax create custom reports and management dashboards for data analysis and optimization based on attributions and data points unique to their business.
Impact
ClearTax could measure their team performance by creating custom reports
Team member vs Task details
Team member vs Number of product demo given vs Dates
Detailed information about customers (GST, PAN numbers) to personalize customer experience could be collected to run personalized campaigns.
They could easily keep a count of contacts generated from different paid platforms owing to custom reports on marketing process analysis.
3.HubSpot-Kaleyra integration
Action
TransFunnel integrated third-party API Kaleyra with HubSpot paving the way for holistic WhatsApp and SMS communication with ClearTax's customers from within HubSpot.


Impact
ClearTax could now send personalized bulk alerts (SMS) to customers, communicate via WhatsApp (send and receive message texts, images, audios, videos and media messages) all from within HubSpot. They could have a complete record of these messages in the contact's activity log for future use. The log included all details of the message about its content, type, whether it was templated or non-templated, sent or received, phone number and timestamp.
Both SMS and WhatsApp messages could be used in the HubSpot automated workflows both as triggers and actions. ClearTax could set up automated responses, create deals and support tickets automatically based on message content, filter contacts based on messages and also create active lists.
4.HubSpot-Ozonetel integration
Action
TransFunnel integrated Ozonetel with HubSpot allowing a smooth sync of voice calls data from Ozonetel to HubSpot.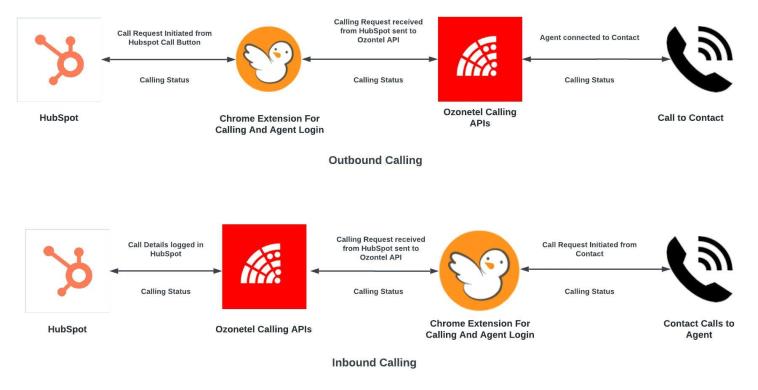 Impact
Ozonetel integration with HubSpot allowed ClearTax to make one-click calls from within HubSpot.
ClearTax's support team could now obtain call details and recordings saved in the contact's activity log for future use and add custom comments to these logs.
5.HubSpot - Demio integration
Action
TransFunnel integrated Demio with HubSpot allowing free flow of events' data from Demio to HubSpot.
Impact
ClearTax could gather attendees' details within HubSpot to focus on nurturing them into customers.
For existing contacts in HubSpot, the events they attended were captured and logged in the activity log for future reference.
ClearTax could now host meetings/webinars from within HubSpot, acquire attendees' data to be added as contacts on HubSpot and save leads that are interested in upcoming events to be nurtured further.