The Future of Marketing Automation
Do any of the below terms sound familiar to you?
"Lead qualification, Lead funnel, marketing qualified leads, lead assignment rules, auto trigger emails, sales alert, campaign management, drip campaigns, lead nurturing, integrated marketing, remarketing, lead Reporting, lead activity history, sales insight"
If yes, then you are already introduced to Marketing Automation!
What is Marketing Automation
Marketing Automation basically means removing any guess work from marketing and sales processes to improve productivity and efficiency of the respective teams.
The term 'Marketing automation' is generally used for the software solutions available in the industry which help the marketing and sales teams automate their repetitive daily tasks, scale up the integrated campaigns, and improve the processes with better reporting across multiple channels. Few of the well known marketing automation software available in the industry are HubSpot, Marketo (acquired by Adobe now), Eloqua, Adobe Marketing, Pardot, IBM marketing cloud etc.
Now, you might ask, "Is the tool enough?"
Actually, it's not. The tool alone is not enough to reduce the burden from marketers until the right processes/standards are followed. So, marketing automation should instead be seen as a combination of the automation software and the processes/standards used to enable/implement the same.
A Brief History of Marketing Automation
Though marketing automation seems to be the buzzword in today's times but it has actually been there since the late 90's. Yes, apart from frosted tips and boy bands, the 90s also brought along the first hint of marketing automation. Back then, the buying process was entirely different than what it is now. To make a purchase, buyers used to be completely dependent on the information a salesperson provided them. Because of this sales heavy buyer cycle, the automation was more focused on one-on-one sales conversations and lead tracking mechanisms. The popular tools that helped marketers of that era were Unica, Annuncio, SAS, Rubric, Siebel etc.
Source: Marketo
Soon enough, the dot-com bubble burst took place and except for SAS, none of the automation companies could survive the wind. Either they disappeared completely or got acquired by other companies. For example, Unica became a part of IBM, Seibel got acquired by Oracle, Epiphany became a part of Infor Epiphany CRM solutions and Aprimo got acquired by Teradata.
By 2005, buyers became more aware and started acquiring the same level of information as the salespersons, thanks to the internet. This also lead to companies finding it difficult to attract buyers for their new products, which ultimately forced marketers to put more information online and connect with their target audience personally. This is where marketing automation started picking up across industries. Marketers started running multiple campaigns, however, did not fully succeed as the automation technology wasn't equipped with enough tweaks to make that happen. Nevertheless, email marketing and tracking with key metrics/reports focusing on emails sent, opened and clicked remained the most prevalent form of marketing for some more time.
By 2007 - 2008, most of the companies were fighting for survival after the subprime crisis dawned upon them. They started laying people off and tried to be profitable by reducing the operational costs. With that, the organisations realised that in order to survive, they would need to adopt the technologies which could help cut costs, increase effectiveness, provide efficient measurement, and boost productivity. This again lead to 'automation' picking up on a higher level.
Amidst all this, social media gained quite a momentum and brands across the world started engaging with buyers through multiple social channels, which also made the automation software adopt social media integrations and reporting. New generation tools like Eloqua - owned by oracle, Infusionsoft, HubSpot, Marketo, Pardot became popular due to these integrations and were adopted by a lot of companies that wanted to be in the race.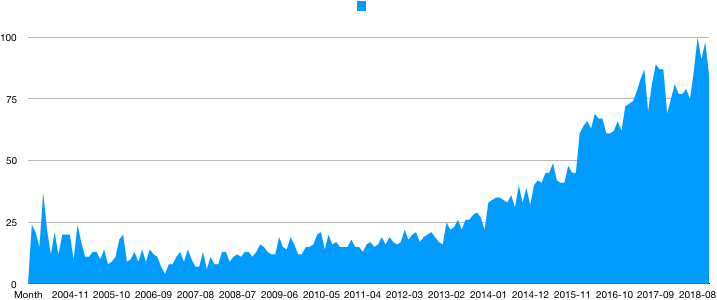 Source: Google Trends
By 2011 - 2012, smartphones became the new standard replacing the traditional ones, due to which, automation tools also incorporated the mobile friendly automation process, SMS marketing and multi-channel messaging. Quite obviously, the buying power made a shift from the salesperson towards the buyer, who now had much more information at their fingertips than what they had before. So, it became crucial for automation tools to improve the lead funnel management process, segmentation, and bucketization of the leads. Almost all the tools now started focusing on lead funnel and lead qualification process, enabling marketing teams to qualify the leads before handing them over to the sales team.
The Efficiency - Empathy Balance
With the rise of new empowered marketing teams, it became crucial for brands to reduce the friction and smoothen the lead hand-over process between the sales and marketing teams. Lead funnel management, drip campaigns, lead nurturing, lead scoring and prioritisation became the most critical features for any automation tools. With many more automation players coming to the industry, the competition increased and marketers had to think of setting the expectations right. As machine could not deliver the human touch, this transition forced the brands to think of incorporating the Human-Automation balance for greater equilibrium between machine's efficiency and human's empathy for better customer satisfaction.
By 2018, with the complete shift in buying power from the seller to the buyer, the concept of 'delighting the customers' had evolved. Post-sales services became more critical than pre-sales. And brands started understanding the buyer persona more than what they did before and therefore, they now know what information needs to be transferred to the buyer and at what stage. This is improving further with AI, machine learning, chatbots and many more features which are making marketers step up the automation game.
Influential Criteria for Marketing Automation Evolution
If we were to summarise the marketing automation evolution journey, it would be mainly dependent on these:
Changing buyer behavior

Competition

Multi-channel reach to the buyer

Hyper personalisation

Buying cycle

Cost efficiency for the companies
The whole industry has seen the transition of sales, from a sales oriented cycle to a buyer oriented cycle
| | | |
| --- | --- | --- |
| Old version | New Standard | Attributes |
| High friction sales | Low friction | Information Sharing |
| Full service | Self-service | Online Subscription |
| 9*5 availability | 24*7 Availability | AI, Chat bots |
| Buy First | Try First | Free trials |
| Humans | Handouts, Collaterals | Better products era |
While the marketing automation continues to make the shift, customer engagement can't be left behind because this is what you need if you are looking to transition those visitors into something more promising. With too much data available to practically everyone, time has become a constraint, which has not only made customers evolve but also the marketers.
Truth be told, there will be more data with each passing day and marketers will have to derive ways in which they can maximise the use of the tools available to them. While marketing automation continues to evolve on a daily basis, it leaves a prominent question to most brands who are still looking at it - Will you be able to survive without marketing automation?
Get the best marketing automation solutions here.