Popular marketing automation platforms: What to pick?
The findings of the research firm Markets says that the global market for marketing automation platform will reach $ 9.5 billion by 2027. This is a significant number and illustrates software's considerable role in helping achieve a business's marketing goals.
The business world works on demand and supply, which means if there is a demand for marketing automation tools, products will aim to satisfy this demand. Therefore, over a period of time, there has been a tremendous and continuous proliferation of marketing tools.
According to Datanyze, 302 companies are involved in bringing forth marketing automation technologies. Imagine the amount of choice out there. As can be imagined, the sheer amount of choice makes it difficult to choose the right tool, and not all tools are built equal.
So, which is the right tool? As people across the marketing sphere will tell you, it's HubSpot. However, ask a few more people; they will point out some HubSpot competitors as their tools of choice.
The right way to choose the perfect marketing automation tool is to look at your needs and check whether the tool addresses those needs comprehensively.
Needs-Based Approach to Choosing a Marketing Automation Tool
For SMBs, any choice made should be looked at from cost-tinted glasses. You need to be able to choose a platform that delivers your needs but cost-efficiently. So, what exactly are an SMB's needs from a marketing automation platform?
Automation of repetitive marketing activities
Automated campaign management
Seamless email marketing
Implementation of extensive marketing strategies with a lean team
Low TCO
Ease of use so that its use is democratized (anyone can use it)
Quick scalability (up or down)
Enables data-backed decision making
Real-time monitoring of
The needs can differ from one business to another and based on the domain of operation. But the problem with automation platforms is that not all have the same user experience, features, or functionalities.
An SMB mindset is very typical, and there is a natural barrier to adopting technology due to the associated cost. Also, a lack of technical expertise permeates through the ranks, and therefore there is a barrier to adopting MarTech by the teams. However, even when such barriers have been crossed and a platform is finally chosen and deployed, there are nightmare scenarios wherein users cannot leverage the platform's full potential.
The key, therefore, is choosing a platform that offers the best value for your business. Let's take a look at some platforms and dissect them based on critical parameters to help you create a definite shortlist that fits your marketing team's needs.
Popular Marketing Automation Platforms
HubSpot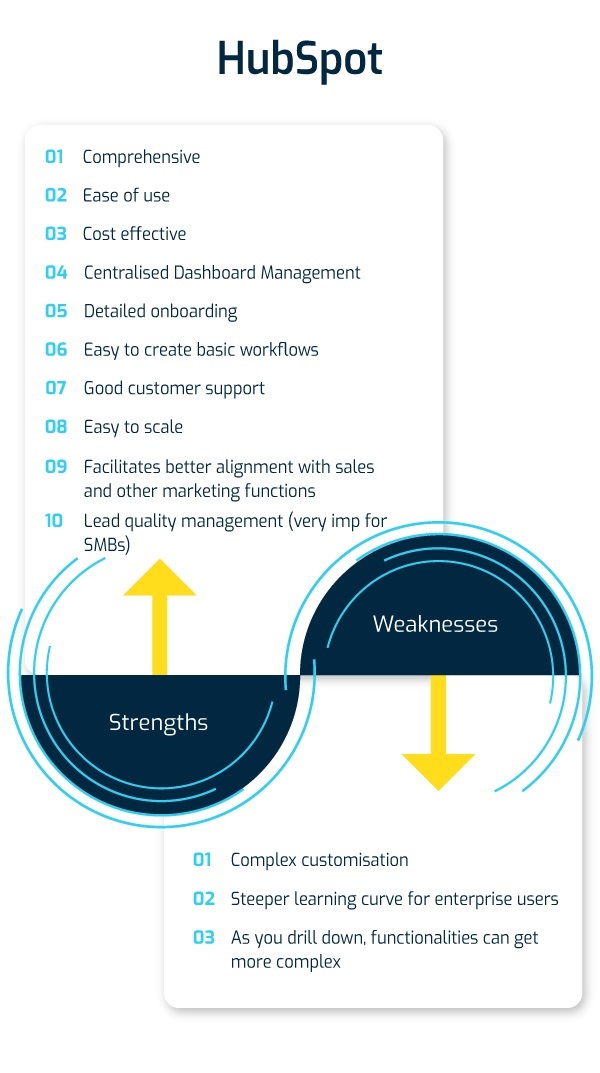 User Strength:
HubSpot claims that their platform is used by more than 177,000 customers across 120 countries, which illustrates its credibility and the fact that its adoption rate is very high.
Why it stands apart?
Its USP is that it connects each aspect of the business that has a role in improving customer engagement and experience, such as marketing, sales, service, content, and operations. While SMBs might not need to work with all HubSpot hubs immediately, they can seamlessly connect different hubs as they grow to ensure better alignment between departments that impact customer journeys.
Integration Capabilities
With the HubSpot app marketplace, you can integrate with most apps your business uses, thus ensuring continuity and the ability to leverage data from different systems through HubSpot dashboards.
Overall Features
Some critical features that HubSpot Marketing Hub offers include web analytics and data to inform marketing strategy, lead capture, behavioral targeting, and lead management and tracking.
Eloqua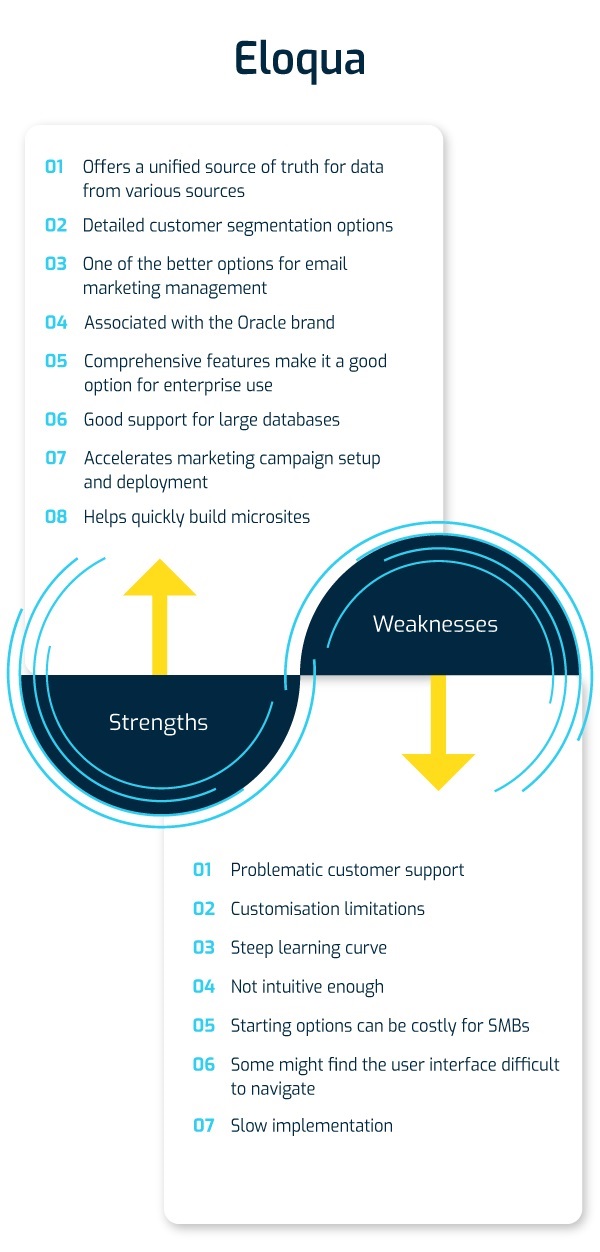 User Strength
Some of the most reputed enterprise-level companies use Eloqua for marketing automation. It is a good pick for enterprises compared to SMBs as the latter can find its pricing a little expensive. Also, it demands a steeper learning curve than other automation platforms, which can be a deal breaker for SMBs who want to get up and running with their automation tool.
Why it stands apart?
One of its biggest USPs is its canvas campaign feature that enables marketers to create multi-channel, multi-stage workflows with a simple drag and drop. It also helps you drill down on customer segmentation to target the right buyers with the right assets at the right time.
Integration Capabilities
Like most reputed marketing automation tools available on the market, you can integrate Eloqua with a range of software commonly used across businesses.
Overall Features
This platform offers features such as campaign management, asset management, customer segmentation and targeting, marketing automation, and more.
Act-On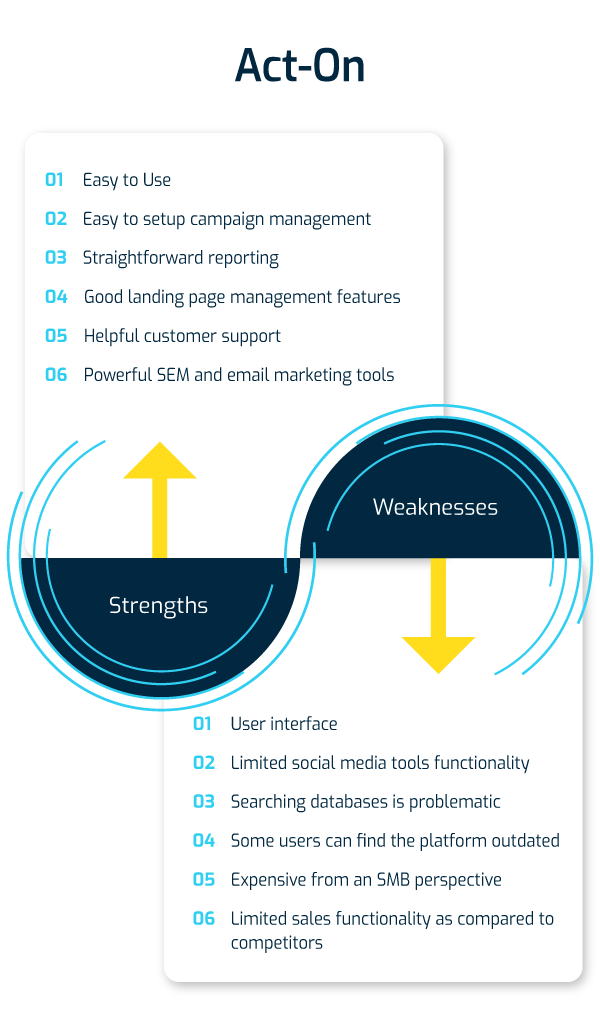 User Strength
According to TrustRadius, the customer segmentation for Act-On veers more toward mid-size and small-sized businesses. This means small and mid-sized businesses see this marketing automation platform as well placed to address their marketing needs and within their budget.
Why it stands apart?
It's a comprehensive marketing automation tool that exclusively focuses on marketing automation, and that is how the company says it differs from other platforms that try to deliver too many features across departments through one platform.
Integration Capabilities
Act-On integrates with commonly used platforms such as Salesforce, GoToWebinar, and many others to help users improve customer targeting and decision-making with a potent mix of data.
Overall Features
It covers multi-channel marketing, marketing analytics, lead scoring, lead generation, and more.
Keap (Infusion Soft)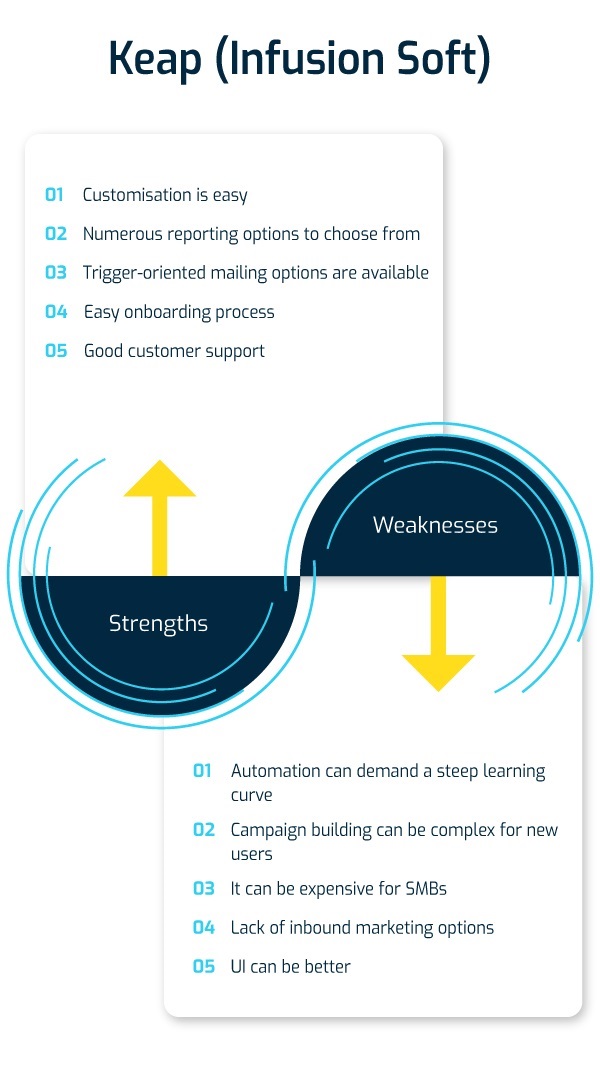 User Strength
Keap (Infusion Soft) markets itself as a CRM for small businesses, and its website says it has 6,000 customers. But it can be expensive if you only want this platform for facilitating and optimising email marketing. If you use a range of marketing features to bolster your marketing efforts, then Keap is probably not a good idea. Otherwise, it can be a part of your shortlist.
Why it stands apart?
Keap's primary strength is email automation, but it also enables your sales and marketing function to work in tandem, primarily focusing on small business's needs.
Integration Capabilities
Keap's primary strength is email automation, but it also enables your sales and marketing function to work in tandem, primarily focusing on small business's needs.
Overall features
InfusionSoft or Keap offers email marketing automation, lead capture, lead management, text marketing, sales automation, and lifecycle automation.
Which Marketing Automation Tool Delivers the Knockout Punch?
Shortlisting marketing automation tools or platforms is a difficult exercise. But once you have shortlisted the various options available on the market, what happens next? You will need to shortlist one. You can't use all of them. So, you will need to pit the strengths of one against the other; it's going to HubSpot vs. Eloqua, or HubSpot vs. Act-On, HubSpot vs. Keap and so on.
Let's begin.
HubSpot Vs. Eloqua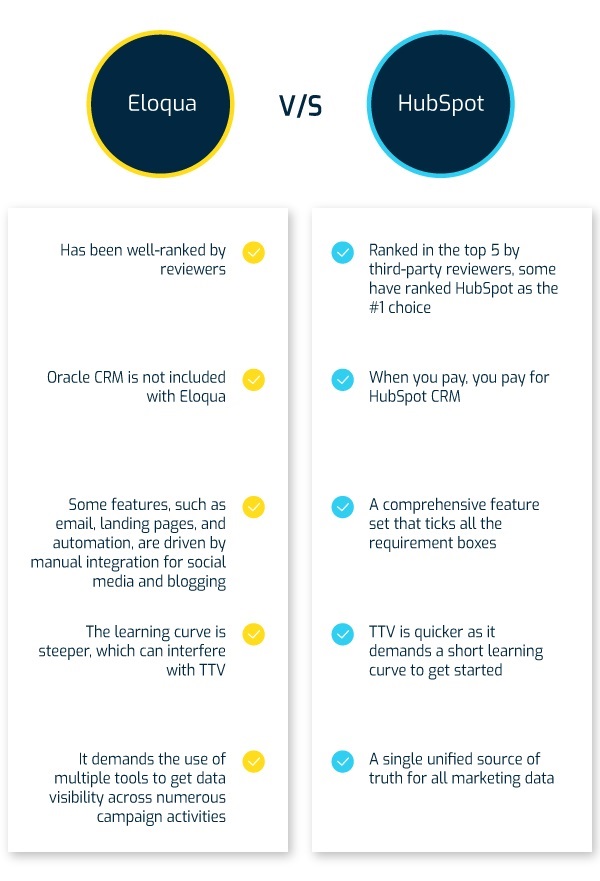 HubSpot Vs. Act-On
HubSpot Vs. InfusionSoft (Keap)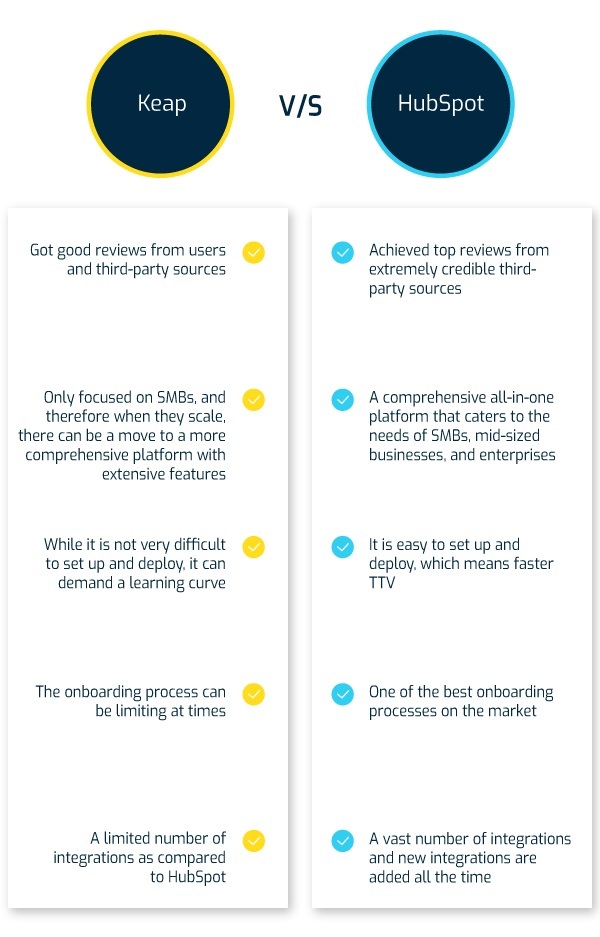 Conclusion
Whether you are looking at HubSpot or a HubSpot competitor, you must pick a marketing automation platform and CRM that is not only need-based but with an eye on the future. Think long-term. You want your platform to deliver long-term value, ensuring continuity and sustainable results. So go ahead, pick one that you can work with.
TransFunnel, a HubSpot solutions partner with HubSpot accreditation in Onboarding, Platform Enablement and CRM Implementation can help you pick the right tool for your unique needs. We also provide services in Salesforce, Pardot and Marketo.