When it comes to email marketing automation, businesses have multiple options to choose from, including HubSpot and Mailchimp, and Zoho. Each platform offers unique features that cater to different needs. In this comprehensive comparison, we will explore the strengths and advantages of both HubSpot and Mailchimp for email marketing automation, allowing you to make an informed decision based on your specific requirements.
HubSpot vs Mailchimp for Email Marketing Automation
Both HubSpot and Mailchimp are well-known platforms for email marketing automation. HubSpot offers a comprehensive suite of tools that go beyond just email marketing, including CRM, content management, social media management, and more. On the other hand, Mailchimp is primarily focused on email marketing and offers a user-friendly interface with easy-to-use templates and automation features.
a) Integration Ecosystem and All-in-One Approach
HubSpot
HubSpot's all-in-one approach combines email marketing automation with CRM, content management, and social media management tools. This comprehensive suite of features enables businesses to manage their entire marketing ecosystem from a single platform.
Mailchimp
Mailchimp's strength lies in its user-friendly interface and ease of use, making it a popular choice for beginners or small businesses with simpler marketing needs.
b) Advanced Personalisation and Behavioral Tracking
HubSpot
HubSpot leverages its robust CRM capabilities to deliver advanced personalisation. By tracking customer behavior, preferences, and lifecycle stages, it enables businesses to create highly targeted and personalised email campaigns.
Mailchimp
Mailchimp also offers personalisation options, allowing businesses to tailor content based on customer attributes, but it lacks the depth of personalisation and behavioral tracking capabilities offered by HubSpot.
c) Robust Automation Workflows and Lead Nurturing
Both HubSpot and Mailchimp offer automation workflows to streamline email campaigns.
HubSpot
HubSpot's automation workflows are highly customisable, enabling businesses to create complex sequences of actions based on customer behavior and specific triggers.
Mailchimp
Mailchimp provides a more straightforward automation workflow system, which may be suitable for businesses with less intricate automation needs.
d) Comprehensive Analytics and Reporting
HubSpot
HubSpot's analytics and reporting capabilities provide in-depth insights into email campaign performance, customer engagement, and conversion rates. Its advanced analytics features allow businesses to track and optimise their email marketing efforts effectively. This provides a more comprehensive understanding of campaign performance, allowing businesses to make data-driven decisions and continuously improve their strategies.
Mailchimp
Mailchimp offers essential reporting metrics that enable businesses to track email campaign performance and measure key metrics such as open rates and click-through rates. This information allows businesses to make data-informed decisions and optimise their email marketing strategies.
e) Seamless Integration and Collaboration
HubSpot
HubSpot offers a wide range of integration options to enhance its functionality to connect with other business tools and systems. It integrates with popular CRM systems like Salesforce, Zoho CRM, and Microsoft Dynamics, enabling businesses to sync contact and lead data, track sales activities, and align marketing and sales efforts. It also integrates with e-commerce platforms like Shopify, WooCommerce, and Magento, allowing businesses to sync customer and order data, personalize marketing campaigns, and optimize customer experiences. Moreover, it integrates with email marketing tools such as Mailchimp and Campaign Monitor, social media platforms like Facebook and LinkedIn, and content management systems like WordPress and Drupal. Additionally, HubSpot offers integrations with analytics and reporting tools like Google Analytics and Google Data Studio, enabling businesses to track marketing performance, generate customized reports, and gain valuable insights. These options empower businesses to leverage HubSpot's CRM and marketing automation capabilities while seamlessly connecting with their existing tools and systems, optimizing workflows, and driving more effective marketing and sales strategies.
Mailchimp
Mailchimp integrates seamlessly with popular e-commerce platforms such as Shopify, WooCommerce, Magento, and BigCommerce. Mailchimp also integrates with content management systems (CMS) like WordPress, making it easy to manage and distribute content to engage and nurture leads. Moreover, Mailchimp's integrations with CRM platforms such as Salesforce and Zoho CRM facilitate streamlined data synchronization, ensuring a cohesive customer experience across all touchpoints.
While Mailchimp also offers integration options, HubSpot's extensive integration capabilities provide businesses with a more unified and streamlined marketing experience.
f) Scalability and Growth Potential
HubSpot
By utilizing HubSpot's comprehensive suite of CRM and marketing automation tools, businesses can unlock significant growth potential. HubSpot's scalability and advanced features provide businesses with the resources and capabilities needed to expand their operations and drive sustainable growth. With the ability to create personalised and targeted marketing campaigns, businesses can engage their audience at every stage of the buyer's journey, increasing conversion rates and driving revenue growth. Furthermore, HubSpot's integration capabilities allow businesses to connect with other key systems and platforms, such as customer support software, e-commerce platforms, and analytics tools, to streamline operations and gain a holistic view of their customers. Whether it's expanding into new markets, increasing customer acquisition, or improving customer retention, HubSpot provides the necessary tools and support for businesses to achieve their growth objectives.
Mailchimp
Mailchimp offers a free plan that allows businesses to get started with email marketing automation at no cost. This advantage makes it an attractive option for businesses with limited marketing budgets or those looking to test the waters before committing to a paid platform. While suitable for smaller businesses with simpler marketing needs, Mailchimp may not provide the same scalability and comprehensive suite of tools to support long-term growth and evolving marketing requirements.
What to Choose between HubSpot and Mailchimp?
HubSpot
HubSpot shines as the preferred marketing platform if you have a more generous marketing budget at your disposal.
It caters to experienced marketers who can leverage its advanced features and capabilities.
HubSpot is particularly well-suited for businesses with longer and slower buyer lifecycles that involve a sales team.
If substantial growth is a priority for your business, HubSpot's comprehensive suite of tools and scalability will provide the necessary support to drive your marketing efforts forward.
Mailchimp
If you prioritise simplicity and user-friendliness, Mailchimp emerges as the ideal marketing platform.
Mailchimp's primary strengths lie in email marketing and community building, making it an excellent choice for businesses with shorter buyer lifecycles, where building relationships and engagement are key.
CRM: HubSpot vs Zoho
After having drawn comparison between two effective tools for email marketing, it's important to follow up and evaluate platforms for effective customer relationship management (CRM) and marketing automation as they play a vital role in driving growth and enhancing customer experiences. Two popular platforms among many others that are often considered for their CRM and marketing automation capabilities are HubSpot and Zoho.
In this comprehensive comparison, we will explore the key features, capabilities, and nuances of these platforms to help you make an informed decision.
HubSpot
HubSpot is a renowned CRM and marketing automation platform that offers a comprehensive suite of tools designed to streamline marketing, sales, and customer service processes. It combines CRM functionality with powerful marketing automation features, enabling businesses to nurture leads, create personalised campaigns, analyse data, and track customer interactions. HubSpot's user-friendly interface and all-in-one approach make it a popular choice for businesses of all sizes.
Zoho
Zoho CRM is a feature-rich CRM platform known for its extensive customisation options and flexibility. It provides businesses with the tools to manage customer relationships, track sales pipelines, automate workflows, and provide exceptional customer support. While Zoho CRM does offer some marketing automation features, its primary focus lies in managing customer data, sales processes, and support activities. Zoho's modular approach allows businesses to tailor the platform to their specific requirements.
CRM and Marketing Automation Comparison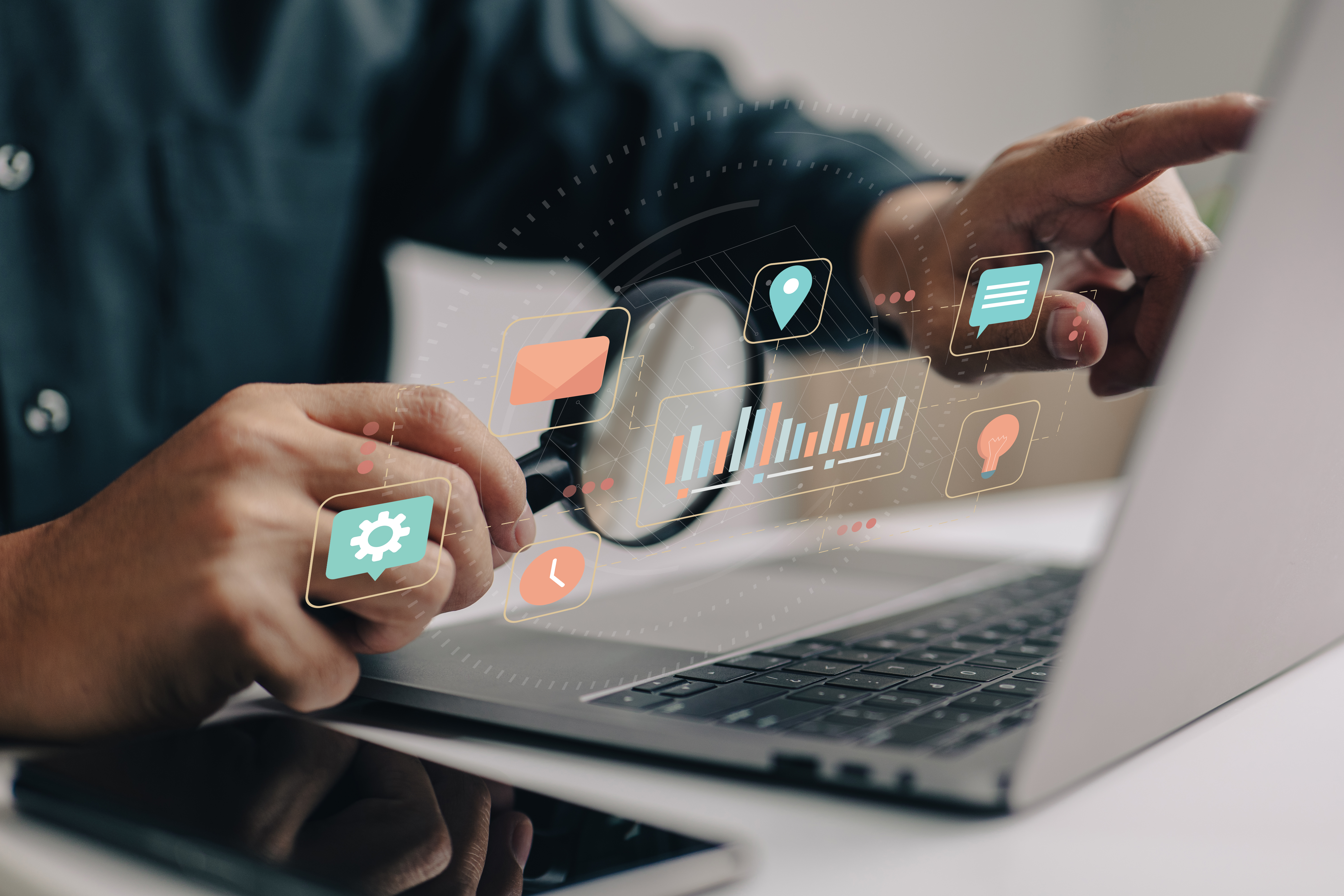 a) Lead Management and Sales Processes
HubSpot
HubSpot's CRM offers advanced lead management capabilities, allowing businesses to track and nurture leads throughout the sales funnel. It provides features such as contact management, deal tracking, task automation, and lead scoring, empowering sales teams to effectively manage their pipelines and close deals. HubSpot's tight integration between CRM and marketing automation enables seamless alignment between marketing and sales efforts, fostering collaboration and enhancing lead nurturing.
Zoho
Zoho CRM also excels in lead management, providing businesses with tools for lead tracking, contact management, and deal management. Its customisable workflows and automation features facilitate efficient sales processes and enable businesses to streamline their lead management activities. Zoho CRM's strength lies in its flexibility, allowing businesses to adapt the platform to their unique sales processes and requirements.
b) Marketing Automation and Campaign Management
HubSpot
HubSpot's marketing automation capabilities enable businesses to create sophisticated and personalised marketing campaigns. With features like email marketing automation, contact segmentation, behavior-triggered workflows, and A/B testing, HubSpot empowers marketers to deliver tailored content and nurture leads effectively. Additionally, HubSpot's Content Management System (CMS) and social media integration provide a holistic approach to campaign management and content distribution.
Zoho
Zoho CRM offers basic marketing automation features, allowing businesses to automate email campaigns, manage leads, and track campaign performance. While Zoho's marketing automation capabilities are functional, they may not offer the same level of depth and sophistication as HubSpot. However, Zoho's integration with third-party marketing tools allows businesses to augment their marketing efforts and leverage external solutions.
c) Analytics and Reporting
HubSpot
HubSpot provides robust analytics and reporting features, offering valuable insights into marketing and sales performance. It enables businesses to track key metrics, such as email engagement, website traffic, and conversion rates. HubSpot's customisable dashboards and visualisations facilitate data analysis, empowering businesses to make data-driven decisions and optimise their marketing strategies.
Zoho
Zoho CRM offers reporting and analytics functionalities, allowing businesses to track sales performance, generate reports, and gain visibility into customer interactions. While Zoho CRM provides essential metrics, it may lack the same level of customisation and depth as HubSpot's analytics tools.
Choosing between HubSpot and Zoho
HubSpot
HubSpot's comprehensive suite of CRM and marketing automation features, seamless integration, and user-friendly interface make it an excellent choice for businesses seeking a unified and scalable solution.
Zoho
Zoho CRM's customisation options, flexibility, and robust lead management capabilities cater to businesses that prioritise tailored workflows and specific sales processes.
By carefully evaluating the features, strengths, and limitations of both platforms, you can make an informed decision that aligns with your business objectives and positions you for success in customer relationship management and marketing automation.
Want to set up a platform for email marketing and automation? Connect with us.